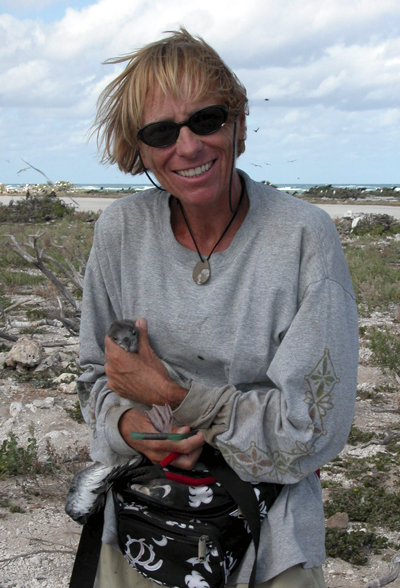 A registered nurse since 1974, Susan Scott earned a bachelor's degree in biology from the University of Hawaii in 1985, and a certificate in marine journalism from the university's Marine Option Program.
Besides her weekly newspaper column, "Ocean Watch," which has been running in the Honolulu Star-Advertiser since 1987, Susan has written three books about nature in Hawaii and three medical guidebooks with her physician husband (see Books link above).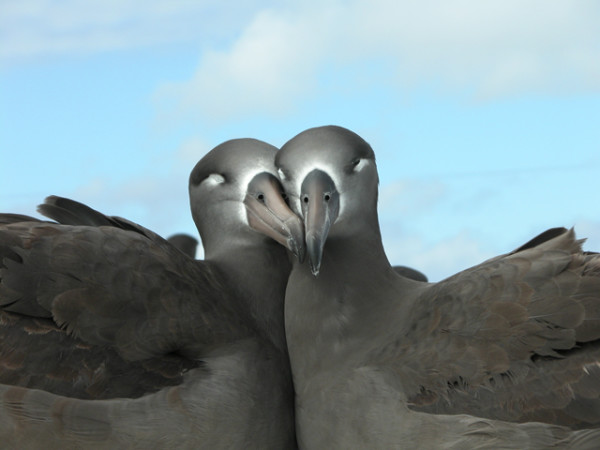 Susan is a frequent lecturer on subjects ranging from counting albatrosses and managing a Bangladesh clinic to sailing the South Pacific.
During her talks, she shows her own photos, which she shoots for her books
and newspaper columns. Susan works as a volunteer biologist for the U.S. Fish and Wildlife Service at such wildlife refuges as Palmyra Atoll and the Papahanaumokuakea National Marine Monument.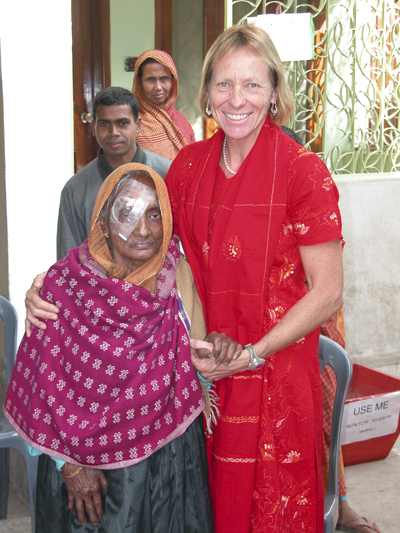 A volunteer nurse for the Aloha Medical Mission, Susan has worked in China, the Philippines, Vanuatu and Bangladesh.  A lifelong hiker, she climbed to the top of Mt. Kilimanjaro, trekked to Mt. Everest base camp and crossed Pakistan's Baltoro Glacier to spend her 50thbirthday at the base of K2.
As first mate, Susan sailed with her husband in 1986 from Connecticut to Hawaii via the Panama Canal.  From 2004 to 2006, she  skippered her 37-foot ketch Honu from  Hawaii to Tahiti and across the South Pacific
to Australia. From there, in 2008, Susan  transported her sailboat by ship to Mexico and in 2013, sailed to the Marquesas. Currently, the boat is in Australia where Susan sails with her husband and co-captain, Craig.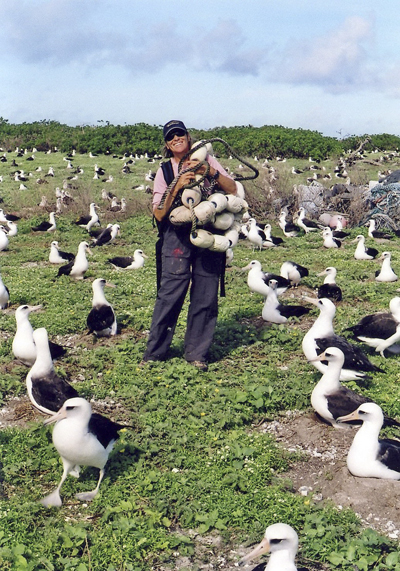 During a beach clean-up in 2003, Susan was struck by the colors, shapes and mystery of the trash she found. She now takes interesting items home, scrubs them clean and uses them in wall hangings, mobiles and mosaics. Susan exhibits her marine debris art for education and conservation purposes only. Her pieces are not for sale at this time (see Art link above).
Susan is a Wisconsin native who moved to Hawaii in 1983 and never left.  Today she lives on the windward side of Oahu with her husband and their dog Lucy.