Published July 20, 2015 in the "Ocean Watch" column, Honolulu Star-Advertiser ©2015 Susan Scott
Pancake Creek, Queensland, Australia » One good thing about crummy sailing weather is that it channels me to areas I might not otherwise visit. I had heard about this anchorage, but it's up a creek and that didn't match my vision of sailing the Great Barrier Reef.
That's what's wrong with preconceived notions. Besides offering a sheltered and scenic haven for Honu, this estuary ecosystem hosts the wildlife of my dreams. It also has the best national park sign I've ever seen.
After several blustery days at Lady Musgrave Atoll, Craig and I set sail for the mainland's Pancake Creek. With no road access, the large creek is a boats-only haven inside Eurim­bula National Park. We share the ample anchorage with 22 other boats, as well as sea and land birds from cormorants to kookaburras.
That's enough pleasure right there, but when the tide goes out here, it's a whole new world. The receding water reveals a mile or more of golden sand flats with tiny ponds, rippling streams and sand art in intricate patterns.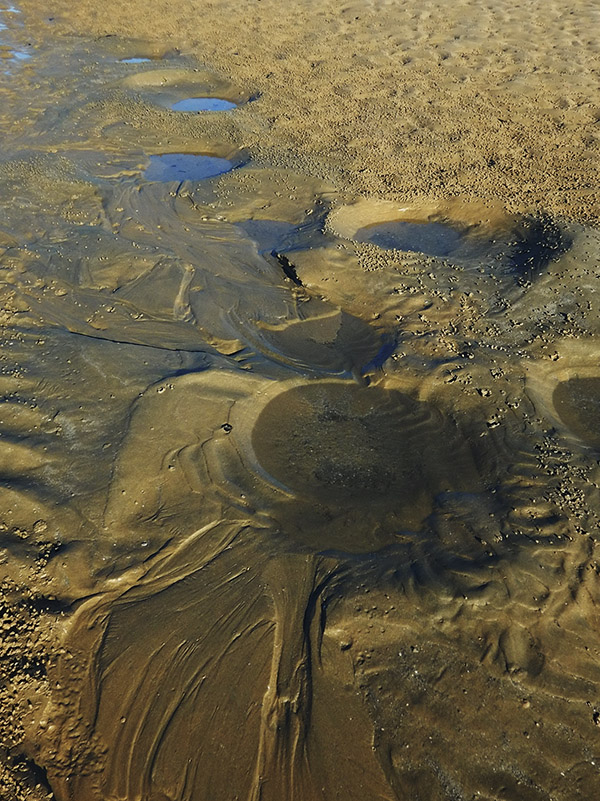 These masterpieces of nature are even more fascinating because of the creatures the ocean brings in at high tide and leaves behind in the ebb. I'm the first to take my dinghy ashore each day at low tide to check out the new arrivals.
I never see rays but I see their beds, each pit the precise shape of the ray that rested there. An astonishing number of rays sleep (and likely eat crabs) on the sand during high tide, their beds at low tide forming puddles that stretch across the flats.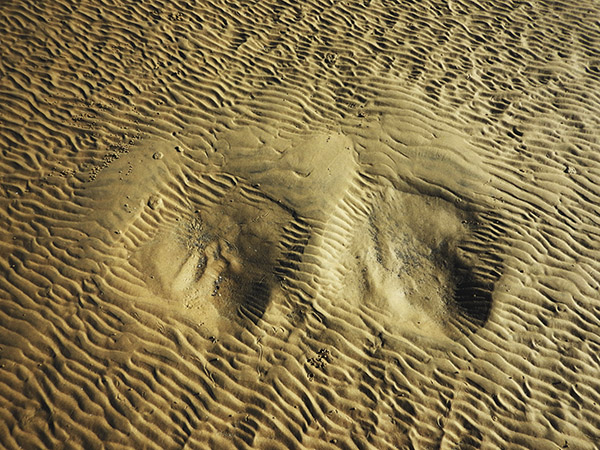 Inside these and other miniature pools, stranded until the water returns, I've found gelatinous snail eggs, green polychete worms 2 feet long, white sea pens, red and white sea urchins and a bright blue mystery creature that my best guess is entwined ribbon worms.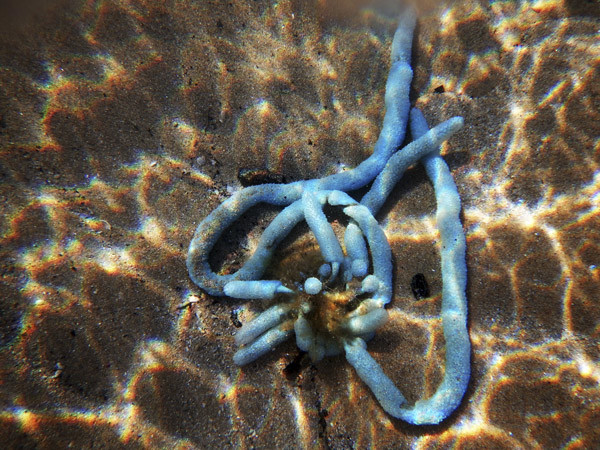 On the sand around the puddles are millions of bubbler crab food balls and soldier crab armies, marine animals so remarkable they deserve a column of their own (next week).
One hiking trail around the creek led us to a remote beach camp containing tents, kitchen gear, kayaks and life jackets, all provided by the national park service. A large sign explains that the camp is for public use, and lists some do's and don'ts, mostly safety advice.
The sign ends with this: "We cannot guard against stupidity, however, if you are stupid and kill yourself, we will fly your body out and that will be the end of our obligation. Have a nice day!"
When I set out for the GBR, I never dreamed I would sail up a creek and have so much fun. Thank heaven for lousy sailing weather.
---
Marine biologist Susan Scott writes the newspaper column, "Ocean
Watch", for the Honolulu Star-Advertiser, www.staradvertiser.com
©2015 Susan Scott