Marine biologist Susan Scott writes a weekly column called "Ocean Watch" for the Honolulu Star-Advertiser and has written six books about nature in Hawaii. Use the tabs above to read her columns, search for a topic, check out her books, learn more about Susan or send her an email.

---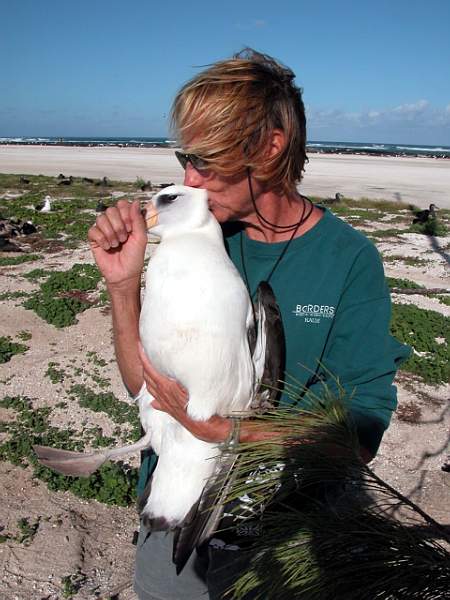 As a volunteer biologist for the U.S. Fish and Wildlife Service, Susan helps count and band seabirds in Pacific island refuges. She delivered this farewell kiss to a Laysan albatross after a banding session on Tern Island, French Frigate Shoals Atoll, Papahanaumokuakea National Marine Monument.

---
Susan sailed her 37-foot ketch, Honu, from Honolulu to Palmyra Atoll, Fanning, Tahiti, Cook Islands, Tonga, Fiji, New Caledonia and Australia. She shipped the boat from Brisbane to Mexico in 2008, and is currently sailing and exploring the wildlife in the Sea of Cortez.

---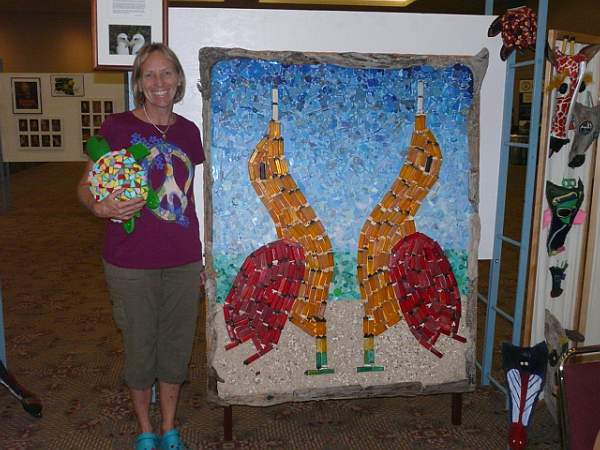 After collecting marine debris from albatross nests and beaches, Susan began using the colorful pieces as art material. She made the sky-pointing albatrosses in this piece from cigarette lighters found in albatross nests, plastic chips collected from beaches and seashell leis rescued from a trash can, all glued to a piece of found plywood.